Your Source for Fast, Accurate, and Affordable Vehicle Appraisals
The International Vehicle Appraisers Network (I-VAN) provides professional vehicle appraisal services in a timely, objective, and affordable manner.
What Makes I-VAN Unique among Appraisal Organizations?
I-VAN is a group of hobbyists who have come together through specialized training to create a true network of vehicle appraisers. Each of the appraisers has their own interests, knowledge base, and collection of vehicles; through the network we continually share our expertise. Our combined knowledge of vehicles, judging experience, and hobby expertise represents a broader scope of vehicle coverage than any other appraisal organization in existence.
All vehicles are personally inspected by the appraiser who prepares the finished appraisal report in order to ensure maximum acceptance in the marketplace and the legal community. If you were buying a car, would you accept as legitimate an appraisal from someone who never saw the car?
All I-VAN appraisers are certified and required to update their certifications annually through continued education, training, and judging experience.
Select I-VAN appraisers who do Diminished Value, Lemon Law, and Fraud appraisals are also certified in these fields and are further required to be re-certified annually through self-improvement, education, and experience.
Each month, the I-VAN home office reviews appraisals to ensure continued quality assurance.
I-VAN Events
Many I-VAN appraisers participated in the world's largest antique car show and swap meet at Hershey PA, sponsored by the Antique Automobile Club of America (AACA), October 10-13, 2012. However, we had a smaller than usual crowd at Hershey this year as several appraisers were unable to attend due to accidents, illness, and family emergencies. Our prayers go out to those who suffered injuries and are recovering.
But we did still have good representation at our Annual I-VAN Meeting: Robert Aftel, Rob Dementi, Jack Anderson, Doug Ehman, John Kefalonitis, David Calabrese (who brought a friend and got him started in AACA Judging), Kelly Adams, Jimmy Ray, Durwood Keller, and Jack Hanbury, along with Pat and myself. Everyone in this group worked a shift in the booth as did Al Terek and Kevin Goodwin. Others at Hershey who did not get to the Annual Meeting because of conflicts included Rick Marsh, Steve Rinaldo, Bill Smith, Jeff Bliemeister, Ken Farley, and Seth Pancoast. Wally Hunt, proospective appraiser, his son, Tommy, and a friend joined us for the meeting and lunch.
The total of I-VAN Appraisers at Hershey was 20 (out of 45), unless I missed someone. Jimmy Ray gets the Longest Distance Award as he and his girlfriend, Becky Cooper, drove from Springfield, MO. Hey, wait a minute, what about Durwood Keller and his wife, Janey, driving all the way from Baton Rouge, LA!
At the Annual Meeting, we had a moment of silence for the recently departed John Ricketts, who will be greatly missed. Then I announced that three more of our appraisers had been promoted to Tier I status: congratulations to Bill Smith, Robert Aftel, and Jeff Bliemeister for exceeding 100 appraisals in 2012! Then a discussion was held, led by Robert Aftel, regarding some advisable aps for smart phones. I announced that Greg Denk again had won "Appraiser of the Year", tying Dick Barrett for 3 in a row, but was pushed by Bill Smith, Denny Stehr, Robert Aftel, and Jeff Bliemeister. Dave Calabrese and his friend did the welding of the tube steaks; thanks guys. Dave Calabrese has now sold his business and intends to become a Tier I Appraiser in 2013.
It was very cold and windy so it was a shorter than average meeting.
On Saturday, Durwood Keller and Robert Aftel joined me at the AACA Museum to appraise two vehicles being donated to the museum: 1897 Aldridge and the 1955 Flajole Forerunner (a prototype that never went into production). Then on the way home, I appraised yet another vehicle being donated to the AACA Museum: the very best street rod I have ever seen - a 1947 Kaiser Pick-up conversion with absolutely flawless detail. Yes, I got paid on Saturday to appraise three vehicles worth a total of $1,000,000! Hey, someone had to do it!
The weather stunk - but it was still HERSHEY!
-Jeff Locke
Appraiser of the Year, 2012
Jeff Locke, I-VAN Executive Director (on left), congratulates Greg Denk from Kansas City (on-right). Greg was I-VAN Appraiser of the Year 2010, 2011, and now again in 2012!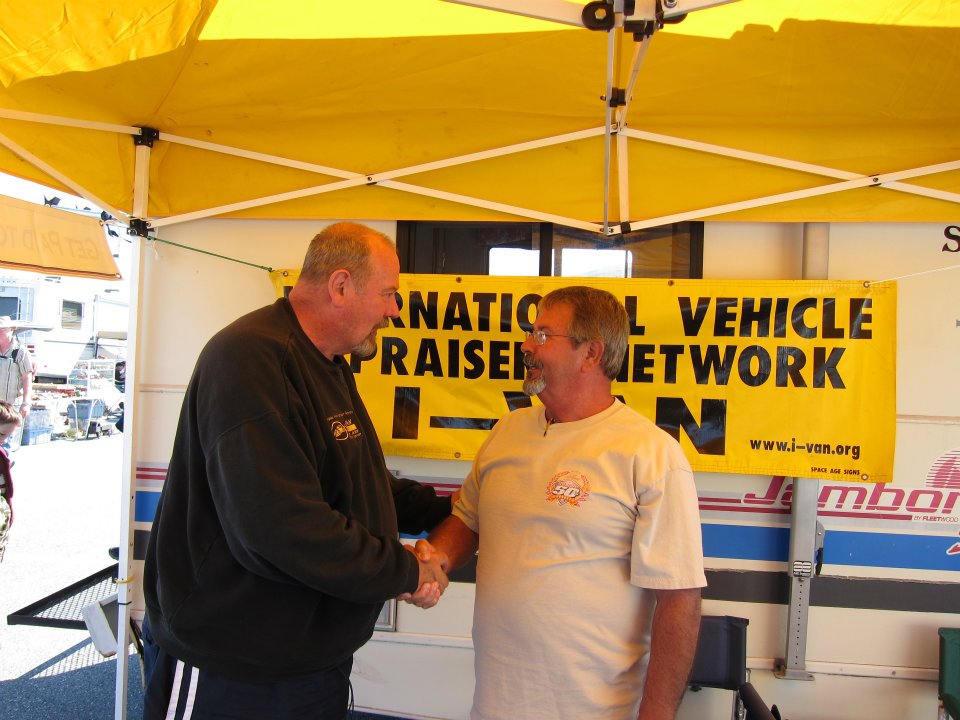 New Appraisers
We welcome the following appraisers to the International Vehicle Appraisers Network:
Brad Kernick of Nebraska
Mike Rhudy of Western Kansas
Tom Ewbank of Indiana
Larry McElreavy of Vermont and New Hampshire
and Nora Aftel of Northern Virginia.
Becoming an Appraiser
Would you like to get paid to look at old cars? Not just anyone can join I-VAN.
To become an I-VAN appraiser, qualified applicants will ideally be automotive hobbyists, belong to car clubs, and have car judging experience. Additionally, to ensure no conflict of interest, applicants may not restore, buy/sell, paint, fix, transport, export, or insure collector vehicles for a living.